Chelsea, Herald, and Times Square Tour
Come and explore two neighboring squares loaded with lots of history and Macy's too. On this tour, you will walk about Herald Square and Times Square along with the neighborhood of Chelsea.
You will experience how the wonders of west midtown still shape the demographics of New York City. wouldn't it be wonderful to be in the heart of Times Square especially around the time of New Year's Eve and see the great ball drop and usher in the new year? I think so! Also, you will experience the life and wonderful neighborhood of Chelsea on this tour.
Downtown Manhattan Walking Tour
There is a lunch break on this tour (1 hour for full tour 45 minutes for Short Form tour. Lunch is not included in the price of the tour).
On this tour, you will traverse Wall Street, The World Trade Center/9-11 Memorial, The Oculus, Trinity Episcopal Church, St. Paul's Chapel, China Town, Little Italy, Soho and Greenwich Village. You will learn how 9-11 impacted Downtown Manhattan, visit the famous Stonewall Inn, Experience life in Soho, and enjoy the unique cultural diversity in China Town and Little Italy. Due to the nature of some of the stops on this tour, we do not recommend this tour for children under the age of 7.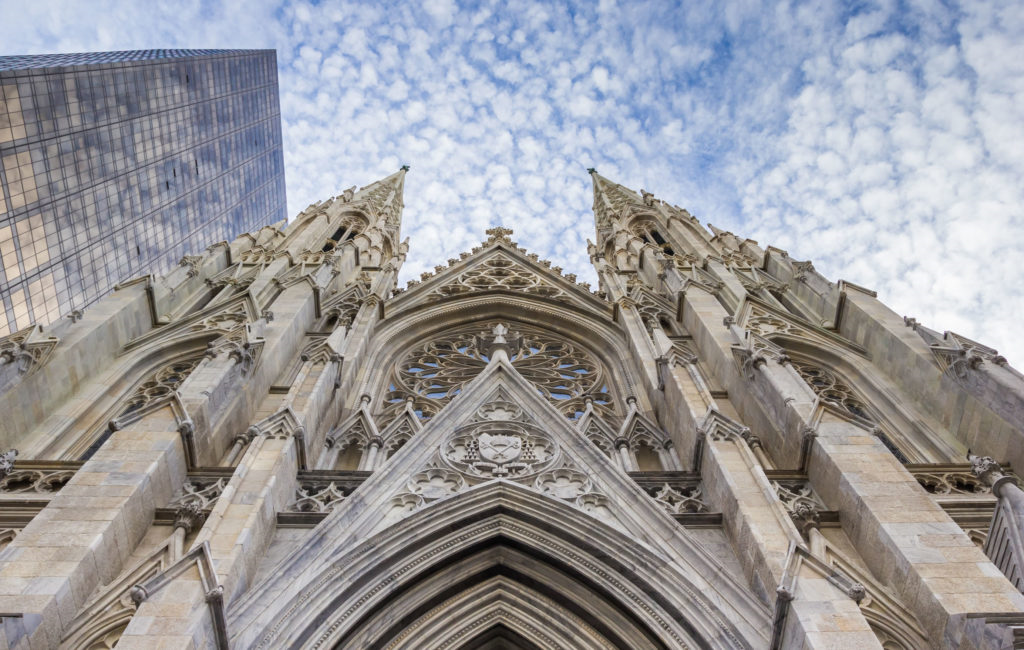 Gems of Midtown East Walking Tour
Come and explore some of NYC's greatest architectural wonders as we take you through three major architectural periods of the 19th and twentieth centuries all within 20 square blocks of each other (Beaux Arts, Art Deco, and Neo-Gothic). On this tour you will see prime examples from these periods which include Grand Central Terminal (the finest Beaux Arts building situated right in the heart of East 42nd Street), The NBC Building aka 30 Rockefeller Plaza (an Art Deco wonder that still defies the test of time on Manhattan's famous 5th Avenue), and St. Patrick's Cathedral (a neo-gothic wonderland that spans a whole city block!).
Other stops on this tour include Trump Tower, St. Thomas Episcopal Church, The Aeolian Building, and the Plaza Hotel in which we re-experience the grandeur of the Beaux Arts era as it applied to hotels built during that time period. There is a lunch break on this tour.
Manhattan Greeterz Walking Tours has been in business since 2012 and we make walking tours very unique. Our lead guide and owner Heather Anne Pastore has a passion for her city and started in walking tours in 2010. In 2012 she decided to branch out on her own and form Manhattan Greeterz Walking Tours.
Heather Anne Pastore, is not only the owner of Manhattan Greeterz Walking Tours, she is also a world renowned author with three self-published books to her credit. Her books are about a little girl named Melonie that lives in Manhattan with her family. Melonie visits places like Grand Central Terminal in Melonie Goes to Grand Central Terminal, Saint Patrick's Cathedral in Melonie Goes to 5th Avenue: A Day at St. Patrick's and Rockefeller Center, and The Freedom Tower in Melonie Goes to the Freedom Tower. Miss Pastore brings these New York City Landmarks to the children! Buy her books today! They are available on amazon.com and bn.com. She also now has published her fourth book A Downtown Manhattan Love Affair.
Contact Manhattan Greeterz Walking Tours
Manhattan Greeterz Walking Tours
114 Lincoln Street
Staten Island , NY 10314

917 734 8910